Garage Storage Products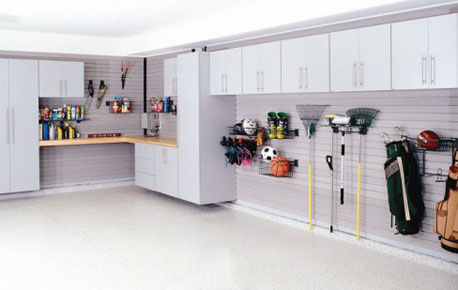 Garage storage products are often overlooked. When you bought your house you might have thought that with the right garage storage products it could be my man cave. Garage storage products might even have been something you looked into. Or, you might add some garage shelving to compliment the car lift your were going to install, finally getting to work on that 67 Cobra your dad gave you ten years ago.
But somehow that's all changed.
It started because you didn't have any garage cabinets or garage shelving. So you set that single box of stuff neatly in the corner of the floor. Then came the tools, the bikes, the leftover boxes of craft supplies from that charity event you helped organize. Oh, and of course there's that tall stack of books on the floor that you swear you would take to the resale shop.
Buy garage storage products to organize your garage.
The next thing you know the garage that was so appealing to you when you bought the house is now just one more thing to deal with on your honey do list. You'd go into the garage, looking, often in vain, for that one tool or specific part that you know is in there somewhere, only to spend a half hour getting distracted by your collection of twenty years worth of Popular Mechanics magazines and forgetting what it was that you went in there for in the first place. Your classic car restoration project is now a classic table top for hoses, boxes and other assorted property that you want to keep but have nowhere else to put.
Good news
We have garage storage products for every kind of use including:
Premium cabinets and shelving to your garage into a museum quality showroom for your vehicles.
Heavy duty and durable cabinets to organize and store all of your tools.
Shoes! Yes, Shoes. How about a system to store up to 400 pairs!
TV mounting systems and cabinetry to create a one of a kind audio video entertainment center.
Work space for your home business.
Cabinets and benches to create the ultimate hobby shop!
and many more.
If you can think of it, Garage Envy has the garage cabinets and shelving to create it.
Garage envy also offers ready to install garage storage products that make the conversion from clutter to organized a simple and easy job. With our garage cabinets your can choose from 1 or 2 piece lower cabinets all the way up to a 10 piece complete garage storage product system. There are so many options to choose from. Whether you are looking for powder coated garage cabinets in black or red, to stainless steel or affordable resin garage storage products, Garage Envy's high quality garage cabinets and garage shelving all come with a life time guaranty. A guaranty you can transfer if you sell your home.