Customer Testimonial - Garage Design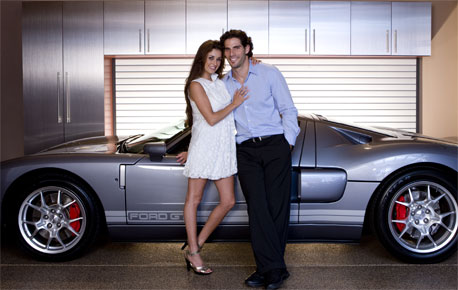 Our customers know us best. Here's what they've said about us:
Garage Envy specializes in garage conversion, garage shelving, garage design.
"We never knew our garage could look this good. The Garage Envy design consultant walked us through the options that we had and how we could save money while still maximizing our storage area. Our garage is now the highlight of our home. Thanks, Garage Envy!"
Bob and Linda Kambeitz
"I found the experience fantastic. Everyone from the designer to the office staff to the installer was very professional. It was just a great customer service experience. The job was done on time and every employee was pleasant and trustworthy. I will definitely recommend Garage Envy to others and use your product in our second home."
Ralph Winchester
"My 50-year-old garage needed a complete remodel and I didn't have the time to deal with multiple craftsmen. Garage Envy was the perfect single-source solution. They remodeled my garage literally from the ground up, and now it is so gorgeous that I want to live inside of it."
Barbara Black
"The work is complete; the floor is perfect. We appreciate the high-quality workmanship of Garage Envy."
Richard Bushey
"I had Garage Envy design and install cabinets in my garage and epoxy my floor. I now have a storage area that looks great and a floor that is easy to maintain. I highly recommend Garage Envy. My garage is truly the "Envy" of my neighborhood."
D.A. Huskins
"Garage Envy made for a clutter free life in Malibu, and it is beautiful. Not only are the products ergonomically functional, but it offers the ability to maintain organization as well as a sleek and sexy style that is an "eye candy" for curb appeal. The added temperature-controlled wine cellar that was installed by Garage Envy is a dream come true — and here's the kicker, it added financial value upon re-appraisal. Thank you Garage Envy! Gotta go 'cuz the "surf's up!""
Michael and Madoka Cardenas
"I explained to the design consultant that I didn't want cheap home closets in my garage. I wanted to have something that was functional but not unaffordable. That was what I got."
S. Pastor
"I wanted to tell you how satisfied we are with our "new" garage. Not only is it beautiful and functional, but it is part of a total experience we had with Garage Envy: the organization of your business and the terrific design work, the superb customer service, the fine materials and workmanship you have, as well as the people who came to do the work (they were all very pleasant and hard-working). It has always been my view that 95% of the time the informed consumer gets what they pay for and nowhere has that proved to be truer than with Garage Envy."
Customer, Manhattan Beach, Calif.
"I wanted to place my foot down in a civilized garage when I got out of my car. Garage Envy helped me do that and more. My garage is now functional, organized, clean and beautiful too! I went from a cave to a showplace. Thank you ... you guys really came through!"
O.C.
"We would like to tell you how amazing our garage turned out!! Thank you for sending Gil (Garage Envy Pasadena's Lead Technician), who is by far one of the best and experienced craftsmen around! Everything was, and is, wonderful! Thank you, Garage Envy!"
K. and S. Caparoni
"We are extremely happy with our new garage and with the professionals at Garage Envy. From the first conversation to the consultation and installation, we were pleased. We especially love our loft and the storage it now provides. It is a great space for us!"
Ty and Nadine Bobit
"I highly endorse the quality of work Garage Envy and their installers performed during the installation of our garage cabinets. They not only offered excellent suggestions and consultation regarding on the spot decisions, but did their work with diligence and with good cheer. I wished them both the best in their continuing work and in the future."
Harlow S. (Hal) Snell
"Your installers, Felipe and Tim, did a great job on my garage and took great care in what they were doing. Felipe was very detailed in his explanations and made me feel at ease with the work. I would recommend either one of these two for a job! Highly Recommended!"
Michael K. Lee
"The garage looks great! We were able to put a lot away and get all three cars back inside.... It's a huge improvement!"
Kathy Chang