Would your garage make a good mother-in-law apartment?

That's what a Portland man by the name of Martin Brown decided to find out when his mother-in-law expressed a desire to live closer to Martin's family. Anyone who's ever tried it knows that sharing a house with your parents or in-laws isn't always easy, but that doesn't mean that you don't want them close by. Mr. Brown solved that dilemma in a creative way - he converted his detached garage into a living space that allowed his mother-in-law to have the privacy she needed but that kept her close to the rest of the family. Take a look at how he did it.



Privacy Vs. Perceived Space

A detached garage automatically provides a bit more room for privacy than a garage that's actually attached to the house. Still, the person living in the garage will be a lot closer to the neighbors - the family in the main house - than a typical homeowner is to their neighbors. Martin Brown knew that, so he chose not to add additional windows to the sides of the building. This helps to contribute to the feeling of perceived independence for the person living in the garage structure.

However, as any contractor will tell you, a lack of natural light will make a space feel cramped and look smaller than it is from the inside - and a garage apartment is already going to be pretty small. How to make the best use of the space available is one thing, but how can you make the space appear comfortable and cozy instead of too small and cramped? Brown's answer: skylights. Several skylights, in addition to doors containing glass panels, allow plenty of natural light into the space and create a feeling of openness and spaciousness.

Practical and Durable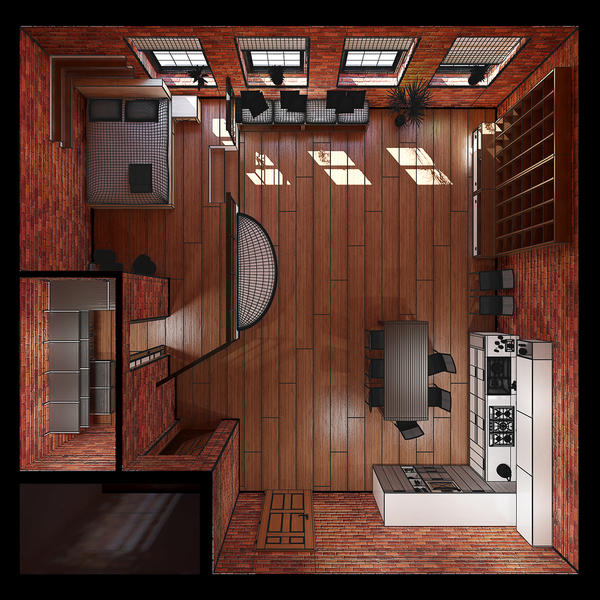 Rather than replace the concrete floor with a more traditional material for a home, Brown opted to leave it in place and paint it. The reason was the durability of the material. In a small space, everything is subject to more wear and tear, so durability is an important issue.

In the same vein, the kitchen is made in part from repurposed garage materials - obviously strong enough to survive frequent use in a small space. The kitchen is ingeniously made to not only be space-efficient, but also practical. For example, the shelves created to store dishes are also drying racks, which means that the dishes can be washed and put away with no need to take up extra counter space in a drying rack - and no need for the additional work of drying the dishes. This feature would be a welcome addition in a home of any size, but it's particularly practical in such a small space.

Brown's converted garage also includes other marvels, like a small second-floor loft providing a perfect space for sleeping, as well as some additional privacy for the occupant. With a fully functional, if smaller than average, kitchen and bathroom, this garage apartment allows for completely independent living while allowing Mr. Brown's mother-in-law close availability to her family, particularly her grandchildren. Does this story have you wondering how you could be putting your garage to better use? If so, contact us for a free design consultation and estimate.