Fueled by the promise of savings and the inspiration of everything from home renovation television shows to social media, the do-it-yourself trend has more momentum than ever. Just how strong is it? A staggering 70 percent of all home renovation projects involve a DIY component. If you're looking to join this group of handy homeowners but lack the space for building projects of your own, why not turn your garage into a dedicated destination for the DIY projects of your dreams? Here's what you need to know.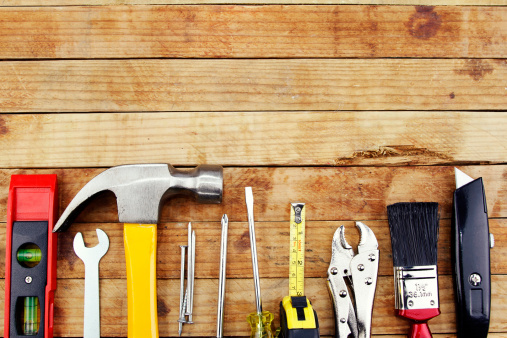 A space and a place for everything means
easier access and less effort.

Optimize Space

Whether you're planning on small woodworking projects or larger endeavors, a cramped, cluttered space is anything but conducive to DIY projects. Before you can even start planning your perfect workshop, you have to deal with the current reality.

If your garage is full of cast-offs from your home, designate a day to sort and organize. Starting with a clean canvas can help you truly understand what you're working with in order to make the best use out of the space. The process is also productive as it's likely to turn up misplaced or forgotten tools and equipment which can save you money in replacement costs.

Plan Your Layout

Different types of DIY projects call for different types of work spaces and storage solutions. Drawing a mockup of your space can help you determine how best to incorporate all of the features that go into a complete DIY setup.

Ideally, you'll have room for a mix of open shelving, heavy-duty cabinets with doors, drawer storage, and furniture with durable countertops. After all, you'll be hammering and sawing away on it, so you'll need to know it will hold up to the rigors of DIY wear and tear.

The best DIY work spaces also designate specific space for tools and supplies. For example, while slatwall storage offer ideal access to frequently used tools, lesser used items should be organized and tucked away to minimize clutter.

Light It Up

Many people underestimate the importance of lighting when it comes to promoting an ideal work space. While task lighting is in order when you're working at close range, overhead lighting enhances the functionality of your space. A mix of task lighting and ambient lighting is ideal, particularly if you plan to use your DIY throughout the seasons and at varying times of day.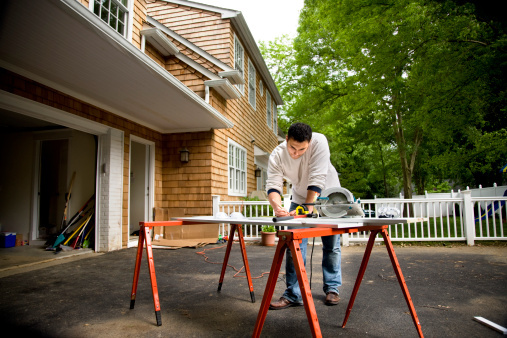 This setup might be sufficient...until the forecast calls for rain.


If you lack adequate access to electricity, consult with an electrical contractor to ensure that you have enough outlets and circuit capacity to handle your needs.

Keep it Comfortable

Your brand new DIY garage space could have all of the functionality in the world, but if it's not comfortable, you won't want to work in it.

Consider the elements that add up to an inviting, welcoming space. From audio video entertainment systems to seating where you can kick back, relax, and review your handiwork after a long, productive day, the best DIY garages are customized to not only enhance your ability to work, but also your ability to relax and have fun in the process.

If you've always fantasized about having the space to execute your DIY dreams, this vision is more attainable than you think. In fact, when it comes to today's innovative garage makeovers, the solution is even closer than your own backyard. Looking for more great ideas on how to transform your garage into a DIY space, craft room, man cave, or other square footage-generating spot? Visit Garage Envy to learn more about the company's comprehensive storage solutions for the home and garage.