One of the fun things about the holiday season is the opportunity to show your spirit for the season by decking out your home in holiday decorations. Your garage door makes up a large amount of the visible exterior of your home, so it's the perfect place to concentrate on if you're looking for a surface to cover with holiday cheer. Take a look at some tips that will help you deck out your garage doors for the holidays.
Bow or Wreath
An oversized wreath or Christmas bow can give your home a seasonal look that's classic and elegant without going overboard. If you're feeling ambitious, you could cover the garage door in wrapping paper before adding a gift bow to the center.
Make sure to pay attention to the color of your garage door when choosing your wreath or bow. A green wreath isn't going to show up well against a deep green door, but a red bow or a white wreath will make a great contrast. If your door is red, go with a green wreath or a white bow. Green and red will both look great against a white door.
Banner or Mural
If you really want to cover the entire surface of your garage door, a banner or mural is the way to go. You can buy one that's ready to hang, and this one decoration can easily give your home a big helping of holiday flavor. When the holiday is over, you can take it down, roll it up, and put it away for next year.
If you want to hang a friendly greeting, a message banner that just says "Season's Greetings" or "Happy Holidays" is a great choice. You can look for 3-D murals that will give the impression that your garage is a doorway into Santa's workshop. If you're looking for something seasonally appropriate but not holiday specific, look for a snow-covered landscape scene – it will be attractive and appropriate all season long.
Holiday Lights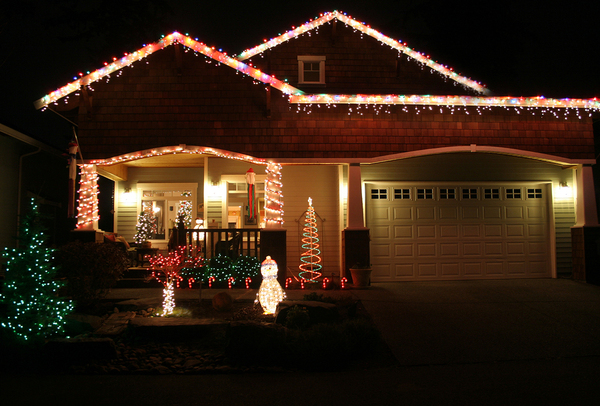 If you plan on stringing holiday lights outside your home, you won't want to miss the garage door. Your best bet is to simply frame the door – if you try to go across the surface of the door, you're more likely to end up with lights that get tangled as you open and close the door.
For a look that will really stand out, you may want to stick with just one color of lights instead of a multicolored string. The garage door is a large space, so you'll want to choose energy efficient lights to avoid running up your electric bill. Consider using LED solar light strings to keep your power bill under control. Most sets have two settings – you can leave them on or set them to blink on and off. You can combine the lights with another type of garage door decoration, like a banner or wreath, or use them by themselves.
There's no reason why your garage can't be a cheery space that reflects your holiday mood. For more information about renovating and decorating your garage space, contact us.